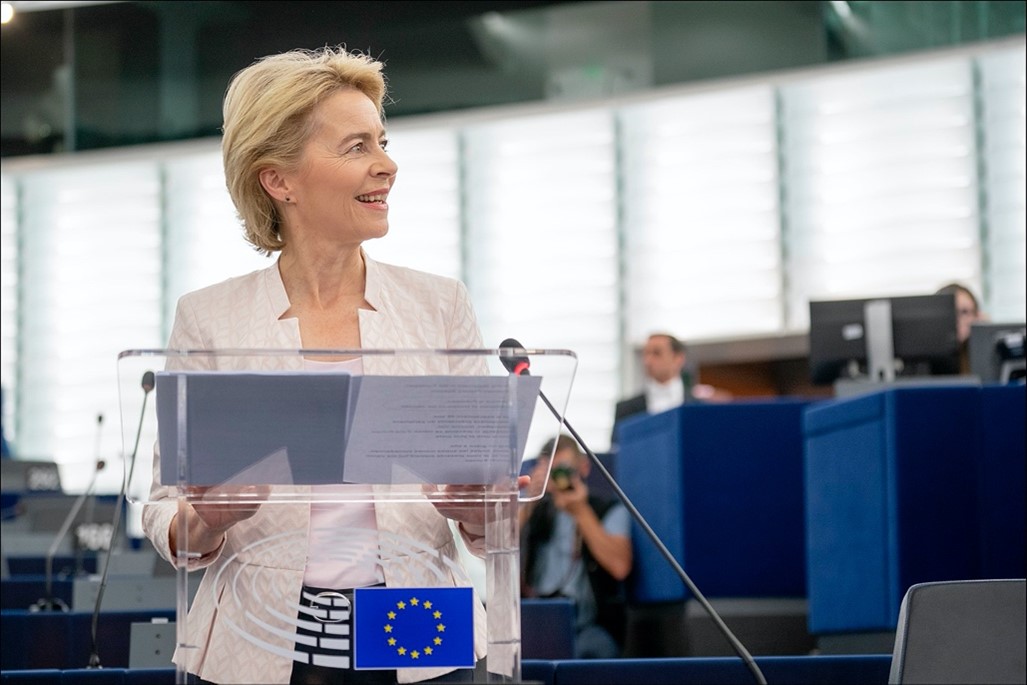 What does Von der Leyen's new greenhouse gas emissions reduction target mean for Europe's energy, environment and transport sector?
On 16 September, European Commission President Ursula von der Leyen delivered the much-anticipated 2020 State of the European Union (SOTEU) address. The presidential speech is one of the main events in Brussels' calendar, setting out the Commission's long-term agenda on Europe's most pressing issues such as climate change and COVID-19 recovery. We look at the main takeaways of von der Leyen's speech, ensuring that you are all set for the (legislative) changes expected in the environmental, transport and energy sector.
While the 2020 SOTEU comes at a time of uncertainty, Ursula von der Leyen's vision on combatting climate change is anything but uncertain. On the contrary, SOTEU has once again showcased von der Leyen's ambition to go down in history as the Commission's "climate president", who fights tirelessly to transform Europe in a climate-neutral continent. And so, it did not come as a surprise that von der Leyen confirmed the widely expected decision to scale-up the EU's 2030 climate target from 40% to "at least 55%" reduction in greenhouse gases (GHG). The message is clear: von der Leyen sides with science and delivers on the commitments made under the Green Deal – despite the urges from certain industries to put climate ambitions on hold amid the economic turmoil caused by the pandemic.
A more ambitious GHG reduction target will have profound implications for businesses across the EU. Von der Leyen's announcement initiated a wave of legislative revisions to ensure that all climate and energy laws are "fit for 55 per cent". As a way of a practical example, from Summer 2021 onwards, new emission trading scheme (ETS) guidelines will prevent businesses from circumventing EU climate obligations by moving productions to non-EU countries with less ambitious climate policies. At the same time, a significant cut in the number of ETS allowances given out for free will force the industry to decarbonise or pay for polluting. The new ETS guidelines are expected to hit the manufacturing, power generating and aviation industry the hardest, having previously benefitted from free ETS allowances.
EU legislation on energy will also require a substantial upgrade. The current efficiency regulations are not suited to deliver a 55% GHGs reduction, and so the Commission will table new proposals for stricter efficiency and renewable energy policies by June 2021. More ambitious energy labelling and eco-design requirements for manufacturers of electricity-consuming products are likely to be the Commission's preferred policy option.
Lastly, a stricter GHG reduction target especially forces the transport sector to innovate and improve. Asides from stricter CO2 emission performance standards for cars and light commercial vehicles, a ban on internal combustion engines remains a policy option.
Von der Leyen's appeal is clear: achieving the EU's GHG reduction ambitions requires unprecedented actions from the European industry, and so businesses in the transport, energy and environmental sphere must get ready for stricter rules and obligations. With the European Parliament's landslide decision last Wednesday to increase the Commission's 2030 target from 55% to 60%, even more ambition will be necessary. Or in von der Leyen's words: "Europe will be what we want it to be…let's get to work for it!"
Contact Us
If you would like to know more information about Greenhouse Gases or any of the above content please contact our Chelgate Public Affairs team